1. Are you a morning person?
Oh HELL no.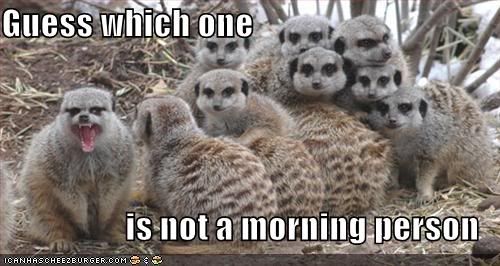 In the past I was: I could get up at any hour after going to bed late, spring right up, take a shower and go on. Now days, I can go to bed at nine o 'clock (like I did last night) and
still
get up at 11:30 in the morning.
2. Tell us of a news story that truly shocked you.
well, there have been a lot but I will use the one that was most recent. Read about it today. A mildly mentally handicapped 30 year old woman asked her parents if she could stay the night at her friend "Peggy's house". The next morning she was stuffed into a trash can in the parking lot of a middle school. She had been force-fed spices, detergent, vegetable oil, different medications and urine. Her head had been shaved and painted with nail polish. She was beaten with a vacuum cleaner hose and a towel bar, forced to write a fake suicide note, then stabbed to death. The
six
beasts who perpetrated this monstrosity then put a bag over her head, wrapped her arms and limbs against her body with Christmas lights they snatched from a neighbor's apartment balcony, stuffed her in the trash can and shoved her under a truck parked at the school.
She had the mentality of a 12 year old. She was excited that she had new 'friends'.
Yeah. That made me shocked. It also made me furious.
3. What was your very first job?
Ah! A lighter subject. I got my first job in the fall of 1982 working at Best Products, Inc. Best was a "catalog showroom", a concept where there was only one representative of an item on the floor. If you wanted it, you filled out a ticket and the salesperson rang the sale and send the order up a pneumatic tube to the upstairs warehouse. Items were picked by a warehouse person and sent down a roller belt to the front, where you picked it up. Complex, eh? I worked in department 03, which was household and camera. I usually worked camera. I bought my first 35 mm SLR there; a Canon AE-1 Program. It was the hottest thing going then. I still have it, but it has shutter problems. I'll never get rid of it.
4. What characteristics do you despise?
Downright meaness. Cruelty. Selfishness. Rudeness. General obnoxiousness.
5. To where would you retire?
Oak Island NC. If I go anywhere when I retire, it will be there. I have asked that my ashes be scattered off the end of Yaupon Beach Pier, or whatever the name of it is now. It was my favorite place on earth, but it's kind of hard now. There's no campground anymore and it's too painful. If I knew I was back to stay, it would be okay. I'll never be in the old house again,
but I would be back. It wouldn't hurt as much as it still does.
6. Are you named after anyone?
Oh, GOD. My middle name is unspeakable. Lanita. Ugh. My aunt saw it on the end credits of the old Jackie Gleason show that used to be broadcast from Miami. One of The June Taylor Dancers. She thought it was the most beautiful name she ever heard. She talked my mother into naming me that. So I am cursed.
7. How do you release anger?
Unfortunately, usually on someone. Then I have to apologize. Driving is good, though, and listening to metal. Driving and listening to metal is best.
8. Do you use sarcasm a lot?
AH HA HA HA HA HA HA HA HA HA HA!
(breathes)
BWAHHH HA HA HA HA HA HA HA HA HA!
(soberly)
No, Seriously, would I do something like use sarcasm?
9. What is your least favorite thing about yourself?
My temper. My diabetes. My weight. My shyness. Oh, it was only supposed to be one, wasn't it?